Solas Hydro Propellers E/J 90-300 HP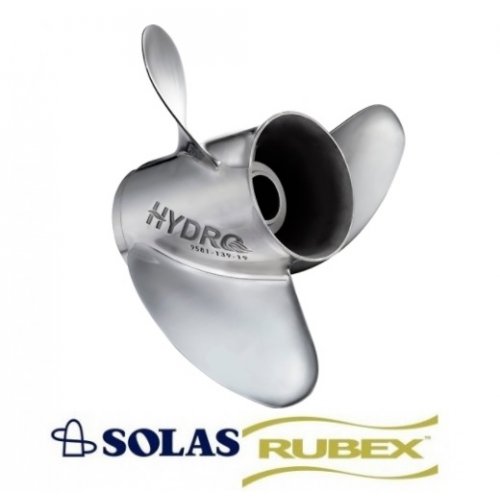 Solas Hydro Propellers | Stainless Rubex Props | Evinrude, E-Tec, G2 90-300 HP Outboards
Solas Hydro Propellers are 13.75" - 14.25" diameter available in pitch increments of 17", 19" and 21". 3-blades, right- or left-handed rotation, this is a great all-around performance propeller with high performance geometry. Termed the Hydro series, these Solas props are similar to the Powertech RAS3 and Michigan Rapture. Available with the Square Hub design to receive the XHS or Flo-Torq hub kits.

The Solas RUBEX Hydro stainless steel propellers have a rubber interchangeable hub system designed to eliminate chatter and vibration that competitive hub systems are prone to. Being rubber, the RUBEX hub has no plastics to deteriorate. It can deflect 10% for softer shifting and to reduce prop shaft shock when the propeller strikes a submerged object. The RUBEX hub will not spin in the propeller.
Each RUBEX Hub Kit comes with the hardware needed to install the propeller on the prop shaft. Unlike competitive hubs, the prop nut does not require periodic re-torquing on a RUBEX propeller system.

Performance Propeller for high speed planing hulls
Provides great bow lift due to the high rake design
Excellent acceleration and top end speed
Cupped blades increase bite and reduces slip
Available in Right and Left-hand rotation

Propeller pitch range 17 thru 21
Interchangeable Hub System
Thru Hub Exhaust
15 Tooth Spline
V-6 Gearcase
RBX100 1991 & Newer
RBX101 1990 & Older
RBX104 200 & 225 4-Stroke 2004-2005
RBX151 150-300 ETEC G2
Engine Fitments for 90-300hp Evinrude/Johnson, E-Tec, E-Tec G2 Outboards & OMC Cobra 800 Sterndrives.
90 HP ETEC (25" Shaft)
90,115,130,150,175,200,225,250 HP 1978 & Newer
100,150,155 HP Commercial 1978 & Newer
120-140 HP 1985
140 HP (25") 1989-94
185 HP 1984-85
235 HP 1978-85
275 HP 1986-88
300 HP 1986-95
300 HP E-Tec 2009 & Newer
Includes all 90-300hp E-Tec & E-Tec HO fitments & 150-300 ETEC G2 2014 & Newer
OMC Model 800, King Cobra & Cobra (Non SX Drive) 3.0L-8.2L Sterndrives.