Solas HR3 Titan Propeller E/J 90-300 HP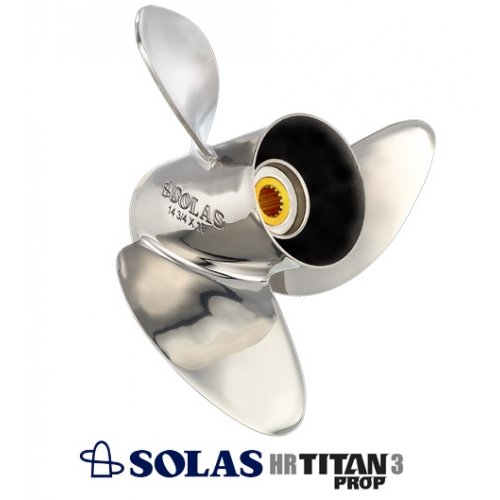 Solas HR3 Titan Stainless Steel Propellers | Evinrude-Johnson, E-Tec, G2 Outboards.
When looking for a durable and better efficiency propeller to replace your aluminum propeller, the Solas HR3 Titan series propeller is an ideal choice. Also with its hign rake blade area design, this series is very suitable for higher-powered boats. The new generation of the SOLAS Stainless propeller is made with ultra durable material. Unlike the traditional material, the new material is a true Stainless Steel. It will never RUST and is also very difficult to be worn out. SOLAS offers variety propeller series to meet different requirements.
SOLAS HR3 TITAN STAINLESS PROPELLERS FEATURE:
Traditional Rubber hub
Thru Hub Exhaust
15 Tooth Spline
V-6 Gearcase
High Speed Application
Three-blade stainless steel propeller
Performance prop for high speed planing hulls
High rake design provides excellent bow lift and acceleration
Heavy cup design increases bite and reduces slip
90 HP ETEC (25" Shaft)
90,115,130,150,175,200,225,250 HP 1978 & Newer
100,150,155 HP Commercial 1978 & Newer
120-140 HP 1985
140 HP (25") 1989-94
185 HP 1984-85
235 HP 1978-85
275 HP 1986-88
300 HP 1986-95
300 HP E-Tec 2009 & Newer
Includes all 90-300hp E-Tec & E-Tec HO fitments & 150-300 ETEC G2 2014 & Newer
OMC Model 800, King Cobra & Cobra (Non SX Drive) 3.0L-8.2L Sterndrives.

CLICK HERE FOR JOHNSON FITMENTS BELOW
200 HP 4-Stroke 2004-2005
225 HP 4-Stroke 2004-2005