Shaft Razor Line Cutter 4.00" Split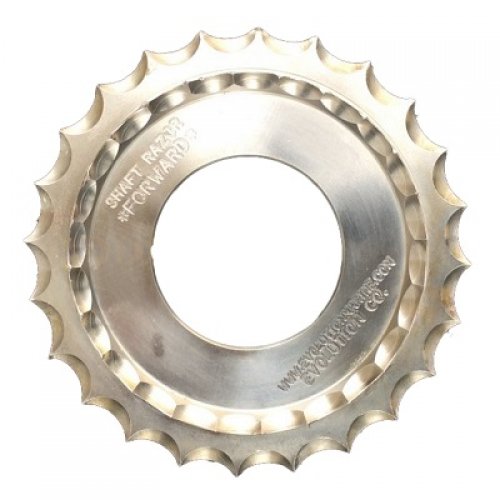 Shaft Razor Line Cutters 400 Split unit fits shaft diameters 1" thru 1 3/4"
Cutter Outside Diameter: 3.980"
Cutter Width: 0.875"
The simplest way to keep your propeller and shaft free from fouling ropes and submerged debris, the Shaft Razor Cutter has been tested and marketed in Europe and North America for many years and is now manufactured by The Evolution Company Inc.
The Shaft Razor Cutter consists of a machined circular blade manufactured from a high grade of stainless steel (316L) with two (2) sharp serrated cutting edges. It is accurately machined to the shaft diameter and kept securely in place by set screws to the shaft. Once installed, the Shaft Razor Cutter rotates with the shaft and gently cuts anything that becomes entangled on the shaft/propeller. installation consists of simply removing the propeller and sliding the Shaft Razor Cutter onto the shaft and tightening the set-screws.
The Shaft Razor Cutter can be installed where there is little space on the shaft.
How do I choose the right model?
• Supply the shaft diameter on your boat either standard SAE (inch) or metric.
• Supply the diameter of the fwd end of your propeller hub.