XHS201 Michigan Wheel XHS Hub 90-300 HP Evinrude-Johnson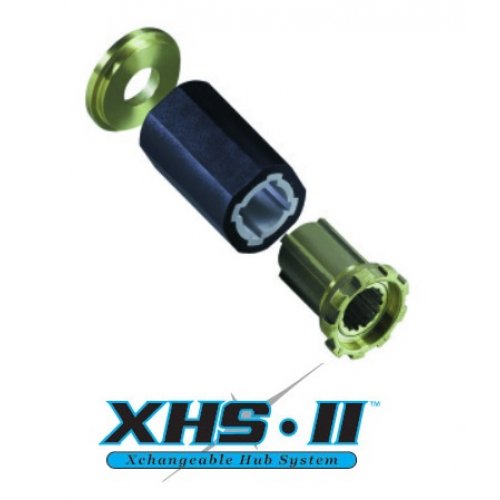 XHS201 Evinrude/Johnson ETEC Outboard & Sterndrives Lg Gearcase Model 800, 1990 and Oldar
Michigan Wheel's Xchangeable Hub System (XHS™)absorbs impact and stress caused by shifting gears and is designed to spin under significant impact to protect your lower end unit.
XHS™ Hub Kits include forward thrust washer, inner hub, and aft drive adapter. These XHS™ Hub Kits are utilzed on the Apollo® Stainless Steel Propellers and Vortex® Aluminum Propellers. These hub kits do not include a prop nut, tab washer, or cotter pin.
XHS201 Hub Kit (15-Spline) for use with the following motors.

90 HP 1995 & Newer
90 HP E-TEC 2004 & Newer
100 HP Commercial 1984 & Newer
115 HP 1995 & Newer
115 HP E-TEC (25" Shaft Length) 2004 & Newer
115 HP Pontoon Series 2014 & Newer
120-140 HP 1985
130 HP 1995-1996
130 HP 1995-1996
130 HP E-TEC (25" Shaft Length) 2009-2010
135 HP 2014 & Newer
140 (25") HP 1989-1994
150 HP Commercial 1995 & Newer
150 HP (Includes E-TEC) 1978 & Newer
150 HP Pontoon Series 2014 & Newer
155 HP Commercial 1978 & Newer
175 HP (Includes E-TEC) 1977 & Newer
185 HP 1984-1985
200 HP 1976 & Newer
225 HP (Includes E-TEC) 1986 & Newer
235 HP 1978-1985
250 HP (Includes E-TEC) 1991 & Newer
275 HP 1986-1988
300 HP 1988-1995; 09 & Newer
2.6 Liter 1984-1985 & 3.6 Liter 1986-1987