Michigan Ballistic XL Propeller E/J 90-300 HP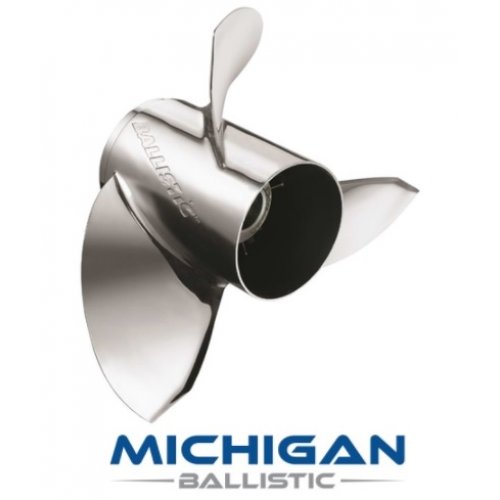 Michigan Ballistic XL 3 Blade Stainless Propeller fits 90-300 HP Evinrude Johnson and all E-Tec Outboards.
The NEW Michigan Ballistic XHS Propellers offer unsurpassed stainless-steel performance at an affordable price. Ballistic XHS propellers still feature the proven Power Tip for peak efficiency, which combines with aggressive cupping to improve bite and reduce power losses caused by cavitation.
Highly cambered blade sections provide for higher speed, and better bow lift.
Michigan Ballistic Propellers offer the characteristics and performance of racing style propellers, without the huge price tag.
Ballistic XHS 3 and 4-Blade propellers are now available in Standard and XL sizes.
Recommended Boat Applications: Bass Boats, Bay Boats, Flats Boats, Sport Boat Singles, Sport Boat Duals, Skiboats, Pontoons
Thru Hub Exhaust
15 Tooth Spline.
4.75" Gearcase
High Polish Finish
Universal Fitment Propeller
XHS200 1991 & Newer
XHS201 1990 & Older
XHS204 200 & 225 4-Stroke 2004-2005
XHS228 150-300 ETEC G2
90 HP ETEC (25" Shaft)
90,115,130,150,175,200,225,250 HP 1978 & Newer
100,150,155 HP Commercial 1978 & Newer
120-140 HP 1985
140 HP (25") 1989-94
185 HP 1984-85
200 HP 4-Stroke 2004-2005
225 HP 4-Stroke 2004-2005
235 HP 1978-85
275 HP 1986-88
All E-Tec & E-Tec HO fitments & 150-300 ETEC G2 2014 & Newer
300 HP E-Tec 2009 & Newer