Volvo Penta Duoprop IH2 Set 21661942 DPS B (Helical Spline)
Volvo Penta Type IH2 Helical Spline Duoprop Propeller Set for DPS-B Drives.
Volvo Penta Duoprops IH Series sets available at getaprop with helical splines for DPS-B outdrives. Available sets include: IH2, IH3, IH4, IH5, IH6, IH7, IH8, IH9, IH10. Volvo OEM #s 21661942, 21661943, 21661944, 21661945, 21661946, 21661947, 21661948, 21661949, 21661950

***Genuine OEM Volvo Penta Duoprop Propellers.

The aluminium option for high performance gasoline and diesel engines with DPS-B drive. Only FH and IH series propellers have the helical splines. IMPORTANT! IH propellers are only approved on D3 diesel and 4.3L gasoline applications below 38 knots.
Note! Because of the IH Helical Spline, you cannot mix I series propellers with IH series on the same drive. For twin installations use only the same propellers. For all engines with speeds in excess of 38 knots, the stainless steel Type FH propeller should be used.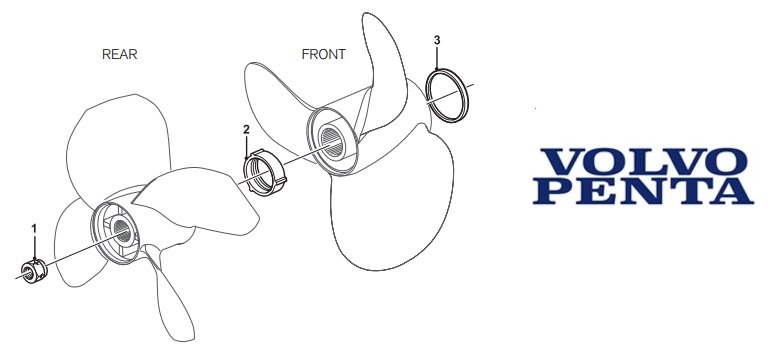 21631162 aka 3851341 Volvo Penta DPS Rear Nut
3851569 Volvo Penta DPS Forward Nut
3855516 Volvo Penta Duoprop DPS Tool Kit