Volvo Penta Duoprop D3 Front DPS-A 3851423
Volvo Penta Type D3 Aluminum Duoprop propellers for DPS, DPS-A (straight splines)
Genuine OEM Volvo Penta Duo Prop D3 Sterndrive Propeller (3851423)
Volvo Penta Duoprop D Series Front Aluminum Propellers available in: D0, D1, D2, D3, D4, D5, D6, D7 sizes.

The Aluminum Propeller is for installation on all gasoline and diesel engines using the DPS, DPS-A drive, with speeds up to 35 knots.
For all engines with speeds in excess of 35 knots, the stainless steel Type F Propeller should be used.
NOTE : Type D Volvo Duoprop Propellers Sets are being replaced with Type I Propeller Sets.
Do not mix Type D and I propellers. Always use Propellers of the same type and size on the drive (or on both drives in twin installations).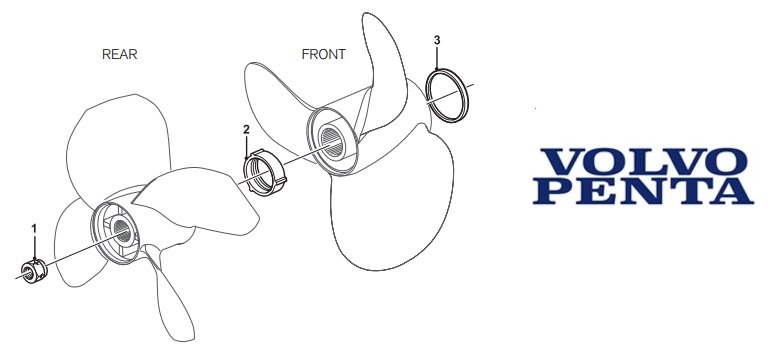 Installation hardware, Type D, F, I
21631162 aka 3851341 Volvo Penta DPS Rear Nut
3851569 Volvo Penta DPS Forward Nut
3855516 Volvo Penta Duoprop DPS Tool Kit