Volvo Penta Duoprop I2 Set 21258482
Volvo Penta Duoprop I2 Series Aluminum Propeller Set for DPS, DPS-A Type Outdrives.
The patented blade geometry and large active propeller diameter provide optimal performance and fuel efficiency over the entire speed range as well as smooth running, excellent grip and maneuverability. Squeeze casting and special high-strength
aluminum alloy makes them stronger and more durable than traditional die-cast propellers. Four layers of paint ensure excellent anti-corrosion performance. Type I has straight splines, type IH has helical splines
Available sets include: I2, I3, I4, I5, I6, I7, I8, I9, I10
• Engineered to optimize performance, durability and comfort.
• Patented blade geometry, large active propeller diameter.
• Strong and durable high-strength aluminum alloy.
• Three-blade front propeller and four-blade rear propeller
NOTE : Replaces Type D Propellers
NOTE : Do not mix D series with I series on the same drive. For twin installations use only the same propellers. Do not mix D and I propellers.
For all engines with speeds in excess of 35 knots, the stainless steel Type F propeller should be used.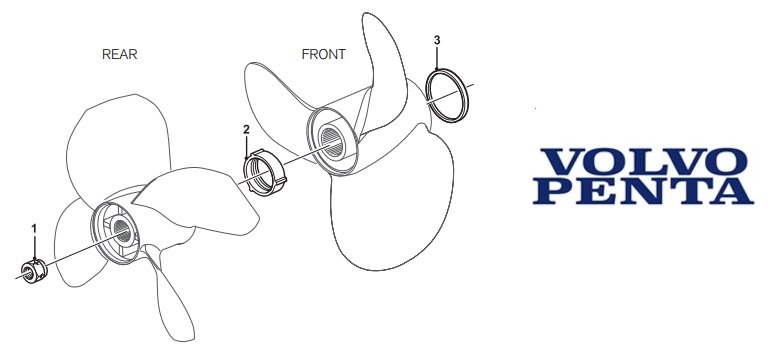 Installation hardware, type D, F, I
21631162 aka 3851341 Volvo Penta DPS Rear Nut
3851569 Volvo Penta DPS Forward Nut
3855516 Volvo Penta Duoprop DPS Tool Kit