Solas HR3 Titan Rubex Propeller 150-300 HP Suzuki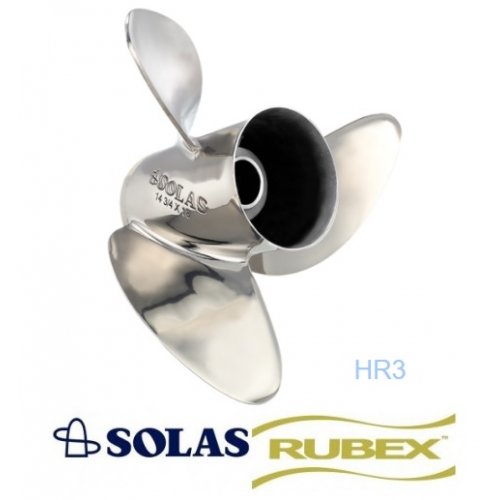 Solas HR3 Titan Rubex Stainless Steel Propeller | 150-300 HP Suzuki Outboards
The new generation of the Solas Stainless Steel propeller is made with ultra durable material. Unlike the traditional material, the new material is a true Stainless Steel. It will never RUST and is also very difficult to be worn out. Solas Propellers offer variety propeller series to meet different requirements.
Every RUBEX stainless steel or aluminum boat propeller has a rubber interchangeable hub system. It is designed to eliminate chatter and vibration that competitive hub systems are prone to. Being rubber, the RUBEX hub has no plastics to deteriorate. It can deflect 10% for softer shifting and to reduce prop shaft shock when the propeller strikes a submerged object. The RUBEX hub will not spin in the propeller.
Each RUBEX Hub Kit comes with the hardware needed to install the propeller on the prop shaft. Unlike competitive hubs, the prop nut does not require periodic re-torquing on a RUBEX propeller system.

Extra cupping increases bite and reduces slip

HR Titan Propeller for high speed boats

Provides great bow lift due to the high rake design

Excellent acceleration and top end speed

Available in Right and left-hand rotation

Propeller pitch range 14 thru 24

Universal Rubex Hub Propeller
Requires RBX104 Hub Kit
Thru Hub Exhaust
15 Tooth Spline
Suzuki Outboards 150-300 HP
DT 150/175/200 HP 1986 & Newer
DT 225 HP 1990 & Newer
DF 150TG/175TG 2014 & Newer
DF 150/175 4-Stroke 2006 & Newer
DF 200A/200AP 4-Stroke 2015 & Newer
DF 200/225/250 4-Stroke 2004 & Newer
DF 250/300AP 4-Stroke 2014 & Newer
DF 250/300 4-Stroke 2004 & Newer