PowerTech WBV3 Propeller Suzuki 150-300 HP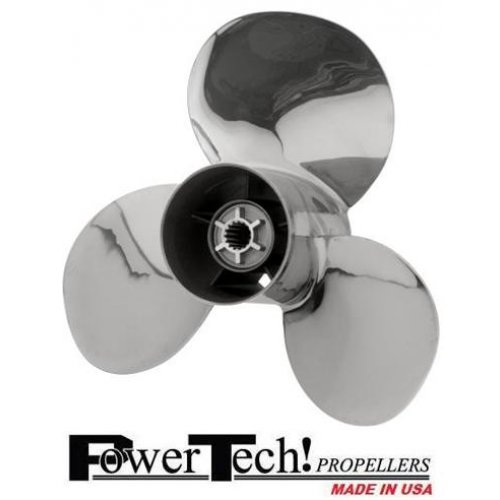 PowerTech WBV3 Wide Blade Load Pushing Propellers for 150-300 HP Suzuki Outboard motors.
Powertech Propellers WBV3 Thruster Series Propellers are 16" diameter available in 14", 15" and 16" pitch in right-hand rotation only. The PowerTech WBV3 has a wide-blade for load pushing designed for cavitation resistance for pontoons and workboats. The WBV provides high thrust and is an excellent choice for pontoons and heavily loaded work boats. With its large blade surface area, it efficiently carries heavier loads while still providing great handling and mid range performance. The Powertech WBV comes with the PowerTech Premium Cushion Lok Hub system factory installed for mounting using your original OEM Suzuki Propeller hardware.

The Powertech Cushion Lok hub system provides smoother and quieter shift engagement and is far less prone to failure than standard rubber hubs. They are field replaceable for quick repairs or interchangeable between different motor manufactures.
CLS200 Cushion Lok Hub Included
15 Tooth Spline
4.75" Gearcase
High Polish Finish
DT 150/175/200 HP 1986 & Newer
DT 225 HP 1990 & Newer
DF 150TG/175TG 2014 & Newer
DF 150/175 4-Stroke 2006 & Newer
DF 200A/200AP 4-Stroke 2015 & Newer
DF 200/225/250 4-Stroke 2004 & Newer
DF 250/300AP 4-Stroke 2014 & Newer
DF 250/300 4-Stroke 2004 & Newer
NOTE: If you are not satisfied with your purchase within the first 30 days, we will exchange your propeller for a different pitch for a nominal fee.