Solas HR3 Titan Propeller Suzuki 150-300 HP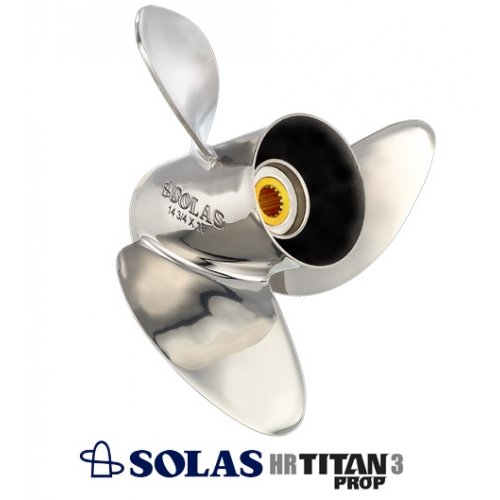 Solas HR3 Titan Stainless Steel Propellers| Suzuki Outboards 150-300hp.
When looking for a durable and better efficiency propeller to replace your aluminum propeller, the Solas HR3 Titan series propeller is an ideal choice. Also with its high rake blade design, this series is very suitable for high-powered boats. The new generation of the SOLAS Stainless Steel Propeller is made with ultra durable material. Unlike the traditional material, the new material is a true Stainless Steel. It will never RUST and is also very difficult to be worn out. SOLAS offers variety propeller series to meet different requirements.
Performance Propeller for high speed planing hulls
Provides great bow lift due to the high rake design
Excellent acceleration and top end speed
Cupped blades increase bite and reduces slip
Available in Right & Left-hand rotations

Propeller pitch range 14 thru 24
Rubber Hub Bushing
Thru Hub Exhaust
15 Tooth Spline
Suzuki Outboards 150-300 HP

DT 150/175/200 HP 1986 & Newer
DT 225 HP 1990 & Newer
DF 150TG/175TG 2014 & Newer
DF 150/175 4-Stroke 2006 & Newer
DF 200A/200AP 4-Stroke 2015 & Newer
DF 200/225/250 4-Stroke 2004 & Newer
DF 250/300AP 4-Stroke 2014 & Newer
DF 250/300 4-Stroke 2004 & Newer