Solas Amita 4 Propeller 40-140 HP Mercury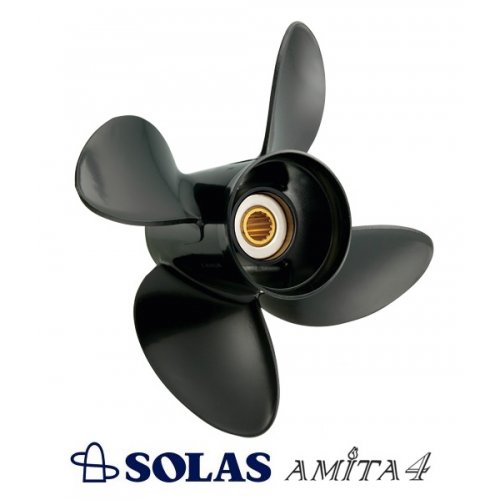 Solas Amita 4 Aluminum Propeller fits 40-140 HP Mercury Outboards.
SOLAS Aluminum Propellers have 4 layers of paint. Using superior coatings and a high-tech painting process ensures excellent anti-corrosion performance. Solas Aluminum Propellers are exposed to over 500 hours of testing in a salt water spray tank. This testing simulates more than 6 months of normal salt water use.
Solas Amita offers S/S prop performance
Exclusive SOLAS squeeze casting process
Wide blade design
Suitable for high speed operation

Thru Hub Exhaust
15 Tooth Spline
4 1/4" Gearcase
Rubber Hub Bushing
40,50,60 HP Command Thrust All Years
40,50,60 HP Big Foot All Years
60 HP Sea Pro 4-Stroke 2016 & Newer
70 HP '87-'89
75 HP(2&4-stroke) '84 & Newer
80 HP '78-'89
90 HP (2&4-stroke '78 & Newer
100 HP '88 & Newer
115 HP '78 & Newer
115 HP 4-stroke '01 & Newer
125 HP '94 & Newer
140 HP (Includes Sea Pro & Offshore) '78-'81
650 2 Cyl thru '71
800-850 6 cyl thru '72
800-850 4 cyl '72-'77
900-1500 Models thru '77
80 HP Mariner '78-'83