Michigan Match Propeller 40-140 HP Mercury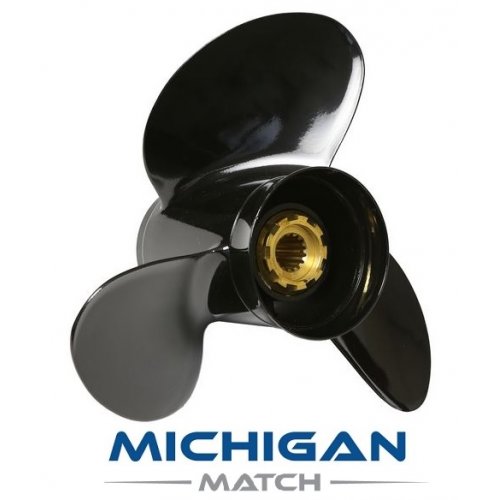 Michigan Match 3 Blade Aluminum Propeller fits 40-140 HP Mercury Outboards.
Michigan Wheel passes boat propeller savings along to you, in the form of a high quality, better performing boat Propellers that typically cost less than the motor manufacturer prop you're replacing. All Michigan Match Propellers feature a NAVAL brass spindle with rubber cushioned hub that absorbs impact and the stress caused by shifting gears. The rubber bushing is designed to spin free under significant impact, reducing the potential for lower unit damage. Michigan Match aluminum propellers also feature a high gloss black power coach finish, helping minimize speed loss from drag, while protecting the aluminum. Backed by a limited lifetime warranty, Michigan Match outboard propellers are a great primary prop yet priced as a weekend-saver spare.
15 Tooth Spline
4 1/4" Gearcase
Rubber Hub Bushing
40,50,60 HP Command Thrust All Years
40,50,60 HP Big Foot All Years
60 HP Sea Pro 4-Stroke 2016 & Newer
70 HP '87-'89
75 HP(2&4-stroke) '84 & Newer
80 HP '78-'89
90 HP (2&4-stroke '78 & Newer
100 HP '88 & Newer
115 HP '78 & Newer
115 HP 4-stroke '01 & Newer
125 HP '94 & Newer
140 HP (Includes Sea Pro & Offshore) '78-'81
650 2 Cyl thru '71
800-850 6 cyl thru '72
800-850 4 cyl '72-'77
900-1500 Models thru '77
80 HP Mariner '78-'83