Michigan Apollo-3 XL Propeller Yamaha 150-300 HP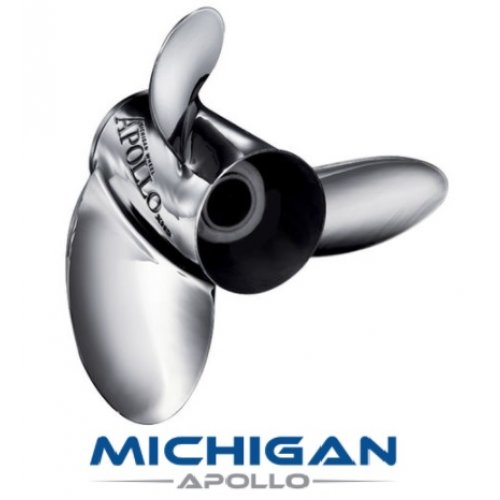 Michigan Apollo XHS-XL 3 Blade Stainless Steel Boat Propellers for 150-300 HP Yamaha Outboards.
Michigan Wheel Apollo Stainless Propellers offer sizes available for 30-70hp to V6/V8. Apollo Propellers can be utilized on typical outboard and sterndrive applications. Apollo Large Diameter Outboard Propellers are great for heavier loads that require increased blade area (V6/V8) applications. Michigan Apollo propellers are also available in 4-blade for improved hole shot on heavier loads, and are great for pulling/towing in water sports. With high performance CAD designed blade geometry, Apollo Stainless Steel boat propellers are a great choice for a replacement or spare propeller.
• Highly polished, ultimate performance stainless steel propeller
• Available as 3 or 4 blade boat propeller
• Can be utilized on most outboard and stern drive applications
• 4 blade propeller improves hole shot on heavy loads and in water sports
• Performance CAD design blade geometry
Similar OEM Yamaha Propellers:
6G5-45941-00-00, 6G5-45947-01-00, 6G5-45945-01-00, 6G5-45943-01-00

15 Tooth Spline
4.75" Gearcase
Requires XHS Hub Kit # 203 (Not Included)
150 HP 1986 & Newer
F150 4-Stroke 2004 & Newer
175 HP 1984 & Newer
200 HP 1984 & Newer
200 HP VMAX® 2001
VF200 V MAX® SHO 2010 & Newer
F200 4-Stroke 2002 & Newer
220 HP (Special) 1984-1985
VF225 V MAX® SHO 2010 & Newer
F225 Offshore 2010 & Newer
F225 4-Stroke 2002 & Newer
225 HP (Excel) 1987-1988
225 HP 1986 & Newer
250 HP 1990 & Newer
250 HP VMAX® 2001
F250 4-Stroke 2002 & Newer
VF250 V MAX® SHO 2010 & Newer
F250 Offshore 2010 & Newer
300 HP 2004-2007
F300 Offshore 2010 & Newer