PowerTech REL3 Propeller Yamaha 150-300 HP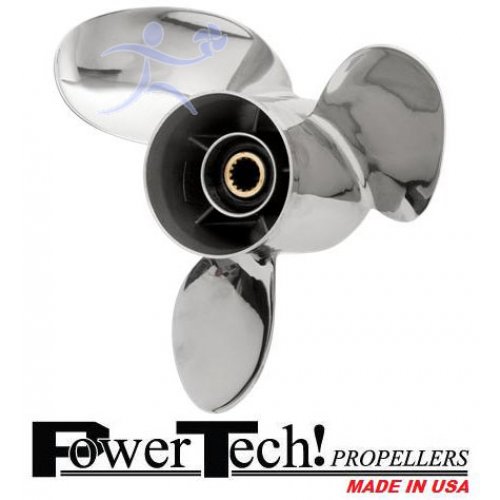 PowerTech Propellers REL3 Reliance Series Props for Yamaha 150-300HP Outboard motors.
The Powertech REL3 Reliance series propellers increase performance for use with Yamaha's F150 outboard applications up to 300 horsepower. Faster at all RPM ranges and having better anti-ventilation characteristics (grip) than Yamaha's proven Painted Stainless-Steel propellers in most applications, REL3 Series propellers are highly-polished stainless steel, featuring excellent corrosion resistance as in all Powertech lines of propellers. Available in 15 thru 21 pitches in right and left-hand rotations with the PowerTech Premium Cushion Lok Hub design factory installed at no extra charge or the optional PDS Noise Dampening Hub System.

The Powertech Cushion Lok hub system provides smoother and quieter shift engagement and is far less prone to failure than standard rubber hubs. They are field replaceable for quick repairs or interchangeable between different motor manufactures.
CLYX200 Cushion Lok Hub Included
15 Tooth Spline
4.75" Gearcase
High Polish Finish
150 HP 1986 & Newer
F150 4-Stroke 2004 & Newer
175 HP 1984 & Newer
200 HP 1984 & Newer
200 HP VMAX® 2001
F200 4-Stroke 2002 & Newer
220 HP (Special) 1984-1985
VF225 V MAX® SHO 2010 & Newer
F225 Offshore 2010 & Newer
F225 4-Stroke 2002 & Newer
225 HP (Excel) 1987-1988
225 HP 1986 & Newer
250 HP 1990 & Newer
250 HP VMAX® 2001
F250 4-Stroke 2002 & Newer
VF250 V MAX® SHO 2010 & Newer
F250 Offshore 2010 & Newer
300 HP 2004-2007
F300 Offshore 2010 & Newer
VF200 V MAX® SHO2010 & Newer
NOTE: If you are not satisfied with your purchase within the first 30 days, we will exchange your propeller for a different pitch for a nominal fee.