Michigan Ballistic 4 XL Propeller Yamaha 150-300 HP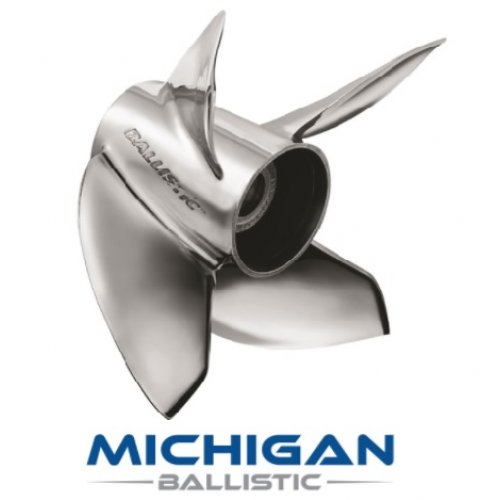 Michigan Ballistic XHS 4 Blade Stainless Steel Boat Propellers for 150-300 HP Yamaha Outboards.
Michigan Wheel's Ballistic Propellers are constructed from 15-5ph stainless steel, and features the proven Power Tip for peak efficiency. Blade tip and cup combine to improve bite and reduce power losses caused by cavitation, while highly cambered blade sections provide for higher speed and better bow lift.
Michigan Ballistic Props have tapered leading edges to minimize drag, and maintain optimum blade strength and thickness. With a high luster mirror finish to add appeal and enhance corrosion resistance, Ballistic makes the perfect Outboard Propellers; whether it's used on a bass boat, ski boat, or sport boat, available in 3-blade and 4-blade, with pitches ranging from 13" to 27". Backed by a limited lifetime warranty, Michigan Ballistic Propellers are very fast Propellers, yet priced competitive to any other High Performance Propellers on the market.
Ballistic XHS Recommended Boat Applications: Bass Boats, Bay Boats, Flats Boats, Sport Boat Singles, Sport Boat Duals, Skiboats, Pontoons.
• Tapered leading edges minimizes drag
• Blade tip and cup to improve bite and reduce power losses from cavitation
• Performance characteristics of racing style Propellers
• Maintains optimum blade strength and thickness
• Highly cambered blade provides higher speed and better bow lift

Thru-Hub Exhaust
15 Tooth Spline
4.75" Gearcase
Requires XHS203 Hub Kit (Not Included)

150 HP 1986 & Newer
F150 4-Stroke 2004 & Newer
175 HP 1984 & Newer
200 HP 1984 & Newer
200 HP VMAX® 2001
VF200 V MAX® SHO 2010 & Newer
F200 4-Stroke 2002 & Newer
220 HP (Special) 1984-1985
VF225 V MAX® SHO 2010 & Newer
F225 Offshore 2010 & Newer
F225 4-Stroke 2002 & Newer
225 HP (Excel) 1987-1988
225 HP 1986 & Newer
250 HP 1990 & Newer
250 HP VMAX® 2001
F250 4-Stroke 2002 & Newer
VF250 V MAX® SHO 2010 & Newer
F250 Offshore 2010 & Newer
300 HP 2004-2007
F300 Offshore 2010 & Newer