Flexofold Sailboat Propeller 16" X 2 Blade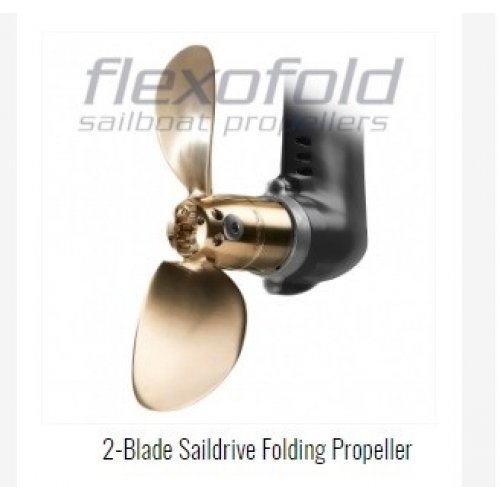 16" Flexofold 2 Blade folding Propeller fits Sail drives & Shaft diameters 3/4" thru 1 1/4" & Metric tapers 20mm-30mm
Vessel data required for order. Click here to submit information.

Installation guide, 2-blade propeller - Saildrive (pdf)

PRICES FOB DENMARK - AIR FREIGHT SURCHARGE WILL APPLY Please note: Returns / Exchanges on Flexofold Propellers are only valid when vessel data is reviewed by Getaprop and Flexofold prior to purchase. Expect delivery within 7-10 Day's
The Flexofold Folding Sailboat Propeller is the most efficient, lowest drag propeller you can buy. This claim is based on independent tests conducted over the past several years and reinforced today by sailboat builders and owners around the world.
Flexofold folding propellers deliver:
• Maximum performance under power*
• Superior performance in reverse*
• Lowest drag under sail*
• 2 and 3-blade design
• Unmatched construction
• Virtually no maintenance
• No fouling of lines under sail
• Approved use with sail drives as well as shafts
• Easy pitch changes
• Patented, twin helical gear design for reliable operation
• Patented, locking screws
• Fair pricing
The Flexofold Propeller does work with a hydraulic transmission. However, to get the prop to fold, you have to follow a simple procedure. The objective is to stop the rotation of the prop which is easily done with a mechanical transmission by putting the gear in reverse. With the mechanical transmission, the clutch stays engaged, and the prop can't turn. With the hydraulic transmission, the clutches stay engaged only as long as there is hydraulic pressure being produced by the turning engine. When the engine is turned off, the clutches disengage and the prop is free to spin no matter where the transmission is. With the blades open and the boat moving forward, centrifugal force will keep the blades open unless you can stop the rotation for a moment while moving forward, forcing the blades to fold. Once folded, the blades will not reopen without rotating the engine again. To cause the Flexofold to fold with a hydraulic transmission, follow the steps below:
1. With the boat moving forward and the motor running in forward (the sails can be up, too) idle down and shift to reverse.
2. Immediately after putting the engine in reverse, shut the engine down. By putting the engine in reverse, you stop the rotation in the forward direction and the blades will fold because you are still going forward. After the engine is shut down, the blades remain folded until you restart the engine and put it in gear.