Solas Titan 3 Propeller 60-130 HP Honda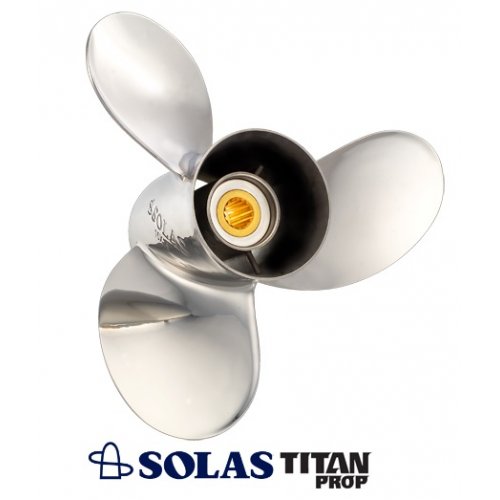 Solas Titan 3 blade Stainless Steel Propellers | 60-130 HP Honda Outboards.
Titan propeller is designed with a high camber blade section and large blade area to provide better load carrying and fuel efficiency for the high power marine engine. The new generation of the SOLAS S/S propeller is made with ultra durable material. Unlike the traditional material, the new material is a true Stainless Steel. It will never RUST and is also very difficult to be worn out. SOLAS offers variety propeller series to meet different requirements.
SOLAS Stainless Steel Propellers feature the industry's highest percentage of chromium, nickel, and molybdenum. Our material resists rust from salt water and increases the stability of the propeller blades. SOLAS Stainless Steel propellers are made by investment casting process.
SOLAS focus its production improvement efforts on efficient use of space, increased yield, first in first out processes and automated equipment (such as robotic dipping arms). We are constantly improving processes and striving even higher. Performance and durability are the characteristics of the SOLAS stainless steel products.
Thru Hub Exhaust
15 Tooth Spline
4 1/4" Gearcase
Rubber Hub Bushing
BFP 60 HP 2010 & Newer
BF 75/90 HP 1995 & Newer
BF 100 HP 2016 & Newer
BF 115 HP 1998 thru 2010
BF 130 HP 1998 thru 2004