PowerTech MQF3 Propeller 60-130 HP Honda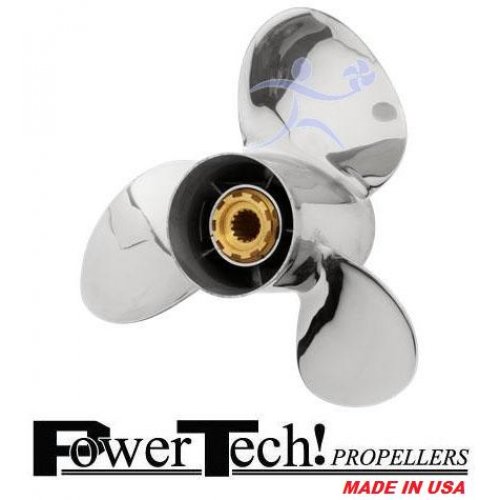 PowerTech MQF3 Stern Lifting Stainless Steel Propellers for 60-130 HP Honda Outboard motors.
PowerTech Propellers MQF 3 blade stern lifting propellers are 13.75" diameter available in 13" and 15" pitch with right-hand rotation. Similar to the Mercury Black Max line of propellers, the PowerTech's MQF is a stainless steel cupped propeller that provides excellent stern lift. This propeller is a great choice for work boats and pontoons requiring stern lift and low end thrust. With its large blade area, rake, and cup it efficiently carries heavier loads while still providing great top end performance and handling. The Powertech MQF comes with a factory pressed in H115 rubber hub bushing, for mounting using your original OEM Honda Propeller hardware.
MQF3 Propeller Features:
Large blade area
Great choice for work boats and pontoons
Right-hand rotation
Stern Lifting Propeller applications
Polished Stainless Steel
4.25" Gearcase
15 Tooth Spline
Thru Hub Exhaust
H115 Rubber Hub Bushing
MQF3 Propellers for the following Honda Outboard motors:
BFP 60 HP 2010 & Newer
BF 75/90 HP 1995 & Newer
BF 100 HP 2016 & Newer
BF 115 HP 1998 thru 2010
BF 130 HP 1998 thru 2004
NOTE: If you are not satisfied with your purchase within the first 30 days, we will exchange your propeller for a different pitch for a nominal fee.