Solas C4 Rubex Propeller Yamaha 25-60 HP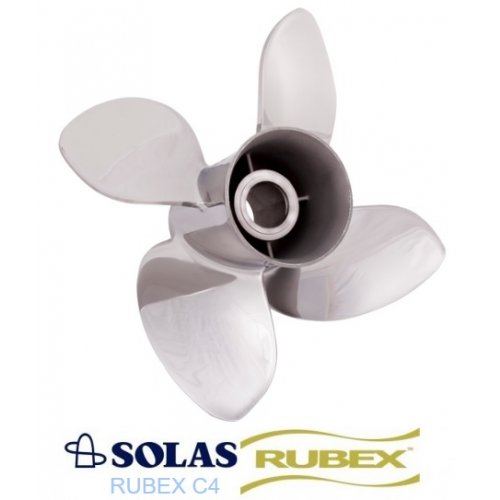 Solas C4 Propellers for 25-60 HP Yamaha Outboards.
These all Purpose Solas C4 Props are available in pitches 12, 13 & 14". 4 blades with right hand rotation and moderate rake. With more blade surface area than a typical 3 blade style, it's more suited to higher horsepower applications such as the newer 20-60 horsepower 4-strokes. The 4-blade configuration provides excellent acceleration, more maneuverability (especially in reverse), improved fuel economy, and smoother overall operation.
The Solas C4 uses an exchangeable hub kit, and provides powerful thrust and smooth performance. Each RUBEX Hub Kit comes with the hardware needed to install the propeller on the prop shaft. Unlike competitive hubs, the prop nut does not require periodic re-torquing on a RUBEX propeller system.
Thru Hub Exhaust
13 Tooth Spline
Requires RBX Hub Kit # 117 (Not Included)
T25 2010 & Newer
40 HP 1984 and Newer
48 HP 1995 and Newer
50 HP (Not T50) 1984 and Newer
55,60 HP 1976-95
F30 HP (4 Stroke) 2001-2005, 2015 & Newer
F40 HP (4 Stroke) 1999 and Newer
F50 HP (4 Stroke) 1995 and Newer
F60 HP (4 Stroke) 1999 and Newer