R&D Flex Coupling 910-004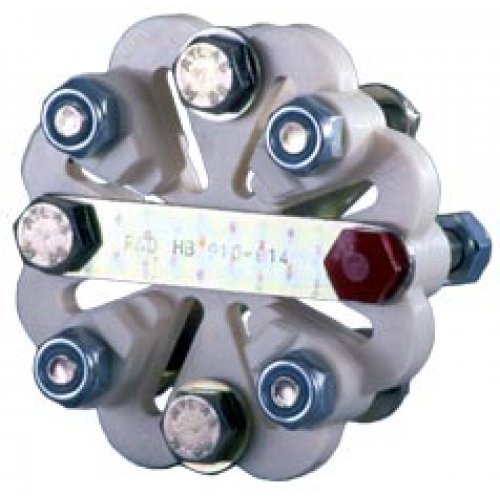 4" ZF, Hurth, Borg Warner and Newage PRM Transmissions. Coupling Capacity 8.
The R & D Flexible Coupling fits between the transmission output flange and shaft coupling. It is designed to protect a boat's drive-train. The unit will reduce vibration, compensate for some misalignment, isolate the shaft and absorb shock loads.
Flange Diameter:4.00"
# Holes:4
Hole Diameter:0.39"
Bolt Circle:3.25"
Pilot Diameter:2.50"
View the R&D Coupling Download Here
HOW TO SELECT THE RIGHT R&D MARINE COUPLING
1) Engine horse power and maximum rated RPM.
2) Type of gearbox and reduction ratio.
3) Gearbox flange details: Diameter of flange, Diameter of register, Bolt circle diameter of fixing holes, Size and quantity of holes. (Bolt circle diameter is the distance between the center of the hole at 12 o'clock position to the center of the hole at 6 o'clock)
4) Flexible Coupling Capacity = HP x Gear Ratio x 100/Max Rated RPM. Once your capacity is determined select the R&D Coupling that that matches the capacity for your engine.