PowerTech SWC3 Propeller 25-70 HP Mercury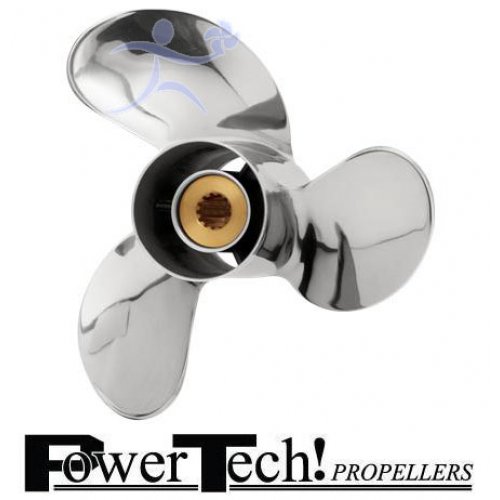 Powertech SWC3 Semi Weedless 3 Blade Stainless Steel Propellers for 25-70 HP Mercury Outboard motors.
The Powertech SWC3 has a constant 10.75-inch diameter regardless of pitch, available in every inch of pitch from 10-15. It has exceptional grip and cavitation resistance with a hard wall cup, excellent motor elevation, semi-weed less swept back blades and hard wall cup for better grip. Excellent application for flats boats, pontoons and single-engine catamarans. The SWC 4-blade version provides better overall performance, including lift, hole-shot & handling and comes with a factory pressed in M70 rubber hub bushing, for mounting using your original Mercury Propeller hardware.

Thru-Hub Exhaust
13 Tooth Spline
3.50" Gearcase
M70 Rubber Hub Bushing
High Polish Finish
Model 402-500-700 1977-84
25HP Bigfoot (4-stroke) 1999 - 2005
30HP Bigfoot (4-stroke) 2010 & Newer
30HP 2 & 4 Stroke 1994-2005
30HP Sea Pro-Marathon 1994 & Newer
35HP 1984-89
40HP 2 & 4 Stroke (Not Bigfoot) 1977 & Newer
40HP Sea Pro-Marathon 1977 & Newer
45HP 1986-89
48HP Mariner All Years
50HP 2 & 4-Stroke (Not Bigfoot) 1977 & Newer
55HP Mercury Sea Pro-Marathon 1995 & Newer
60HP Not Bigfoot or Sea Pro 1978 & Newer
70HP thru 1983
40-60HP Mercury CT/Bigfoot 15-Spline use D Series 40-140 HP
NOTE: If you are not satisfied with your purchase within the first 30 days, we will exchange your propeller for a different pitch for a nominal fee.