PowerTech NREB3 Propeller 25-70 HP Mercury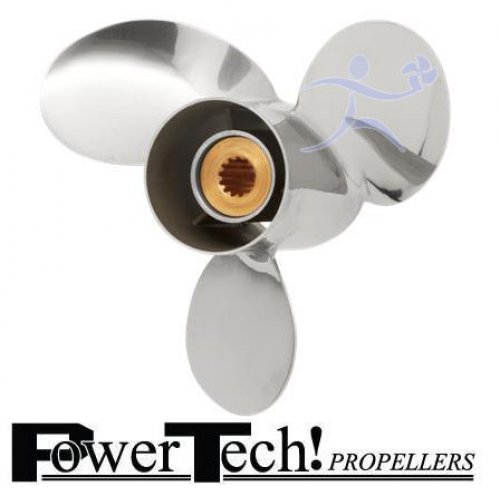 PowerTech Propellers NREB3 All-Purpose Stainless Propellers for 25-70 HP Mercury Outboards.
The Powertech NREB3 is a low rake cupped propeller making it an excellent all-purpose prop that works well in a variety of applications. The large 10.50" diameter propeller will handle higher horsepower and heavier loads, available in 12, 13, 14 & 15" with a 3-blade design in right hand rotation only. The NREB comes polished with a factory pressed in M70 rubber hub bushing, for mounting using your original Mercury Propeller hardware.

Thru Hub Exhaust & 13 Tooth Spline
M70 Rubber Hub Bushing
Highly Polished Finish
Model 402-500-700 1977-84
25HP Bigfoot (4-stroke) 1999 - 2005
30HP Bigfoot (4-stroke) 2010 & Newer
30HP 2 & 4 Stroke 1994-2005
30HP Sea Pro-Marathon 1994 & Newer
35HP 1984-89
40HP 2 & 4 Stroke (Not Bigfoot) 1977 & Newer
40HP Sea Pro-Marathon 1977 & Newer
45HP 1986-89
48HP Mariner All Years
50HP 2 & 4-Stroke (Not Bigfoot) 1977 & Newer
55HP Mercury Sea Pro-Marathon 1995 & Newer
60HP Not Bigfoot or Sea Pro 1978 & Newer
70HP thru 1983
40-60HP Mercury CT/Bigfoot 15-Spline use D Series 40-140 HP.
NOTE: If you are not satisfied with your purchase within the first 30 days, we will exchange your propeller for a different pitch for a nominal fee.