Solas C4 Rubex Propeller 35-60 HP Tohatsu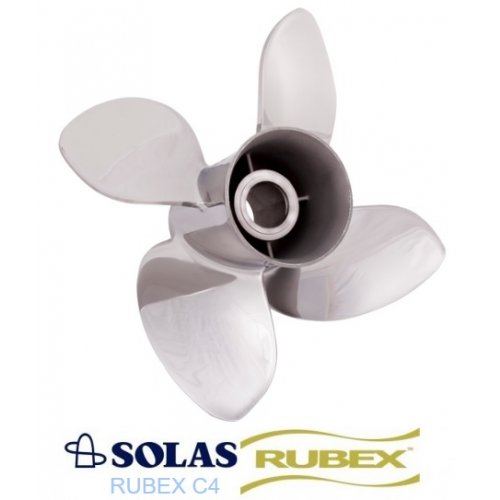 Solas C4 Propellers | Rubex Stainless Props | 35-60 HP Tohatsu Outboards.
SOLAS C4 propellers are made by investment casting process. SOLAS focuses its production improvement efforts on efficient use of space, increased yield, first in first out processes and automated equipment (such as robotic dipping arms). We are constantly improving processes and striving even higher. Performance and durability are the characteristics of the SOLAS C4 stainless steel products. The new generation of the SOLAS Stainless propeller is made with ultra durable material. Unlike the traditional material, the new material is a true Stainless Steel. It will never RUST and is also very difficult to be worn out. SOLAS offers variety propeller series to meet different requirements.

Thru Hub Exhaust
13 Tooth Spline
Requires RBX Hub Kit # 116 (Not Included)
35 HP (35B Only) Thru 1984
40 MFS 2015 & Newer
40 HP (Includes TLDI 40C, M40D, MD40) 1984 & Newer
50 MSF 2015 & Newer
50 HP (Except 50C - Includes TLDI M50D, MD50) 1992 & Newer
60 BFT 2014 & Newer

Tohatsu 60C-& 70C thru 2002 Use 15-Spline D-Class Propellers