Solas Amita 4 Rubex Propeller 60-130 HP Honda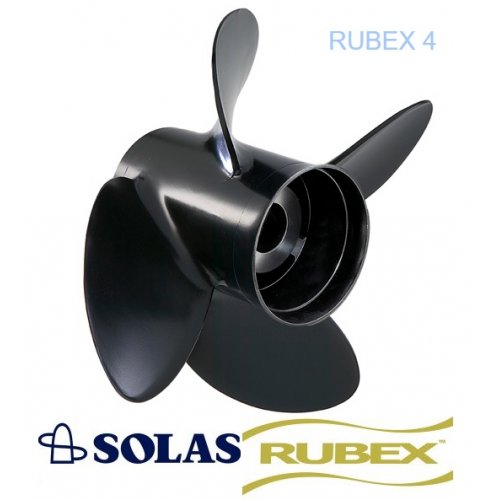 Solas Amita 4 Rubex Aluminum Propeller fits 60-130 HP Honda Outboards.
Interchangeable Hub System
Thru Hub Exhaust
15 Tooth Spline
4 1/4" Gearcase
RBX102 Hub Kit (Not Included)
BF75 1995 thru 98
BF90 1995 thru 98
RBX107 Hub Kit (Not Included)
BFP 60 HP 2010 & Newer
BF 75/90 HP 1995 & Newer
BF 100 HP 2016 & Newer
BF 115 HP 1998 thru 2010
BF 130 HP 1998 thru 2004
BF115 HP 2011 and Newer use E Series 115-250 HP Propellers

Solas Amita offers S/S prop performance
Exclusive SOLAS squeeze casting process
Wide blade design
Outstanding acceleration
Suitable for high speed operation
SOLAS Aluminum Propellers have 4 layers of paint. Using superior coatings and a high-tech painting process ensures excellent anti-corrosion performance. SOLAS Aluminum Propellers are exposed to over 500 hours of testing in a salt water spray tank. This testing simulates more than 6 months of normal salt water use.
Solas Amita-4 blade Aluminum Propeller: This 4-blade aluminum propeller by Solas Propellers has a wide blade designed for today's 2-stroke & 4-stroke outboards (Mercury, Tohatsu, Yamaha, Honda & Suzuki) and outdrives (Alpha 1, Bravo-1, Bravo-2 & Volvo). Solas propellers use a squeeze casting process to produce one of the best aluminum Outboard Propellers in the world and are available for just about all horse power ranges for today's outboard motors and I/Os. Please contact www.getaprop.com today for one of the best aluminum propellers on the market.
Solas Rubex Propellers utilize the Rubex Universal Hub System, making them interchangeable with the Michigan XHS and Mercury Flo- Torq II™ systems. Available for a full range of applications (20-70 HP to V6/V8 in 3-Blade or 4- Blade, the Solas Rubex propeller is a ideal choice for a replacement or spare propeller.