Solas Amita 3 Rubex Propeller 25-70 HP Mercury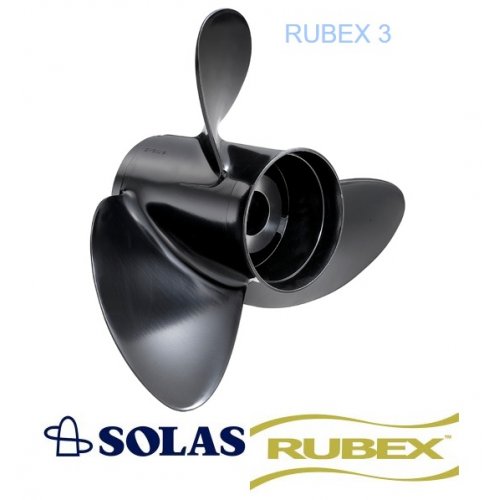 Solas Amita 3 Rubex Propeller fits 25-70 HP Mercury Outboards.
Thru Hub Exhaust
13 Tooth Spline
Requires XHS Hub Kit # 114 (Not Included)
Model 402-500-650 '77-'84
25 HP CT/Bigfoot 1999-2005
30 HP CT/Bigfoot 2010 & Newer
30HP (2&4 Stroke) 1994-2005
30HP (Sea Pro/Marathon) '94-Newer
35HP '84-'89
40HP (2&4 Stroke) Not Bigfoot '77 & Newer
40HP (Sea Pro/Marathon) '77 & Newer
45HP '86-'89
48HP (Mariner) All Years
50HP (2&4-Stroke) Not Bigfoot '77 & Newer
55HP (Mercury/Sea Pro Marathon) '95 & Newer
60HP Not Bigfoot or Sea Pro '78 & Newer
70 HP thru '83
40-60HP Mercury CT/Bigfoot15-Spline use D Series 40-140 HP.
Solas Amita offers S/S like prop performance
Exclusive SOLAS squeeze casting process
Wide blade design
Suitable for high speed operation
SOLAS Aluminum Propellers have 4 layers of paint. Using superior coatings and a high-tech painting process ensures excellent anti-corrosion performance. SOLAS Aluminum Propellers are exposed to over 500 hours of testing in a salt water spray tank. This testing simulates more than 6 months of normal salt water use.
SOLAS Amita-3 Aluminum Propeller: This 3-blade Aluminum Prop by Solas Propellers has a wide blade designed for today's 2-stroke & 4-stroke outboards (Mercury, Tohatsu, Yamaha, Honda & Suzuki) and outdrives (Alpha 1, Bravo-1, Bravo-2 & Volvo) for most motor boats on the water. Solas Propellers use a squeeze casting process to produce one of the best Aluminum Outboard Propellers in the world and are available for just about all horse power ranges for today's outboard motors and I/Os. Please contact www.getaprop.com today for the best aluminum Propellers on the market.