Solas Amita 3 Propeller 20-30 HP Suzuki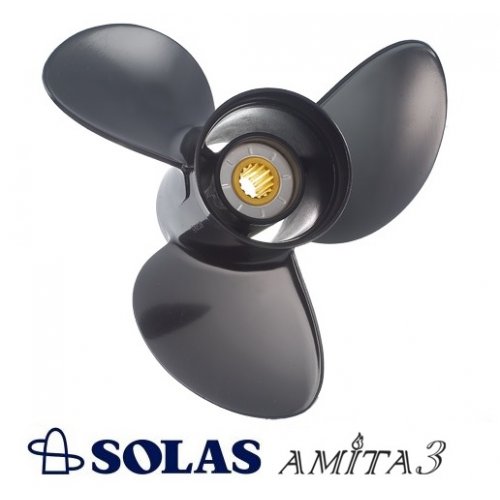 Solas Amita 3 Aluminum Propellers for 20-30 HP Suzuki Outboards.
SOLAS Aluminum Propellers have 4 layers of paint. Using superior coatings and a high-tech painting process ensures excellent anti-corrosion performance. SOLAS Aluminum Propellers are exposed to over 500 hours of testing in a salt water spray tank. This testing simulates more than 6 months of normal salt water use.
SOLAS Amita-3 Aluminum Propeller: This 3-blade Aluminum Prop by Solas Propellers has a wide blade designed for today's 2-stroke & 4-stroke outboards (Mercury, Tohatsu, Yamaha, Honda & Suzuki) and outdrives (Alpha 1, Bravo-1, Bravo-2 & Volvo) for most motor boats on the water.
Solas Propellers use a squeeze casting process to produce one of the best Aluminum Outboard Propellers in the world and are available for just about all horse power ranges for today's outboard motors and I/Os. Please contact www.getaprop.com today for the best aluminum Propellers on the market.
Rubber Hub Bushing
Thru Hub Exhaust
10 Tooth Spline
3" Gearcase
DT 20 1985-1988
DF 25 4-Stroke 2000-2006
DT 25 1985-1988
DF 25 V-Twin 2006 & Newer
DT 25C 1989-2000
DT 30C 1987-1997
DF 30 4-Stroke 2000-2007
DT 30 1983-1997
E/J & Suzuki 25 & 30hp 4-Strokes 2004-2007
DF30A 2014 & Newer