Slipstream Folding Propeller 2B-19"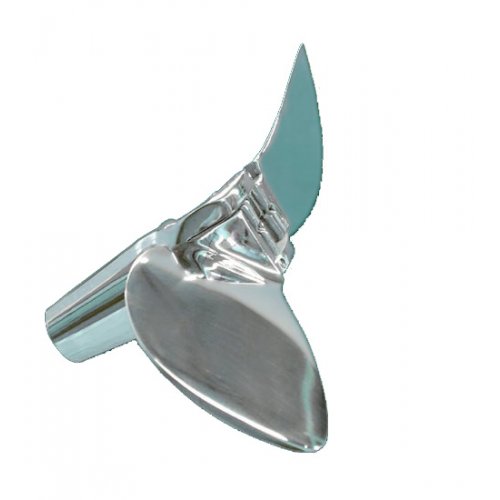 19" Slipstream 2 Blade Folding Stainless Steel Propellers for Sail-drives & shaft diameters 1" thru 1 1/2".
PRICES FOB AUSTRALIA - AIR FREIGHT SURCHARGE WILL APPLY Please note: Returns / Exchanges on AUTOSTREAM Propellers are only valid when vessel data is reviewed by Getaprop and AUTOSTREAM prior to purchase. Expect delivery within 7-10 Day's
Vessel data required for order. Click here to submit information.
Geared design keeps blades synchronized, allowing the blades to fold back properly regardless of the propeller position, even at low speeds - No crawling into the bilge to position the shaft when racing.
All Stainless Steel construction for superior life using low carbon 316L grade stainless steel. Being a similar metal as most prop shafts it is less likely to promote electrolysis which is the most common cause of prop failure.
Large Blade area for excellent thrust, with unique blade geometry resulting in a smoother and more reliable opening of the blades, particularly when shifting into reverse, whilst travelling forward.
Ultra High Molecular Weight Polyethylene thrust plates* on either side of the blades prevent metal-to-metal wear of blade on body.
Blades pivot on replaceable Nibral bushes*, these can be easily pressed out and replaced, compared to the traditional over sizing or welding/re drilling .
Easily replaced Polyurethane 'Bump-Stop Pads'* reduce the 'clunk' of the blades hitting the stop faces when shifting into forward, plus eliminates the wear on the back of the blades and the body.
Blade pivot pins* are double screwed* at BOTH ends for increased security of blades.
All wear components are user-serviceable, "self-service" kits are available for when the time comes to refurbish the propeller (items with * are included in the kit)
Each propeller supplied with:
Comprehensive instructions
Hex key for pivot pin and locking screws
Two types of Loctite to secure all screws and nuts
Stainless steel shaft nut and key