PowerTech SWA3 Propeller 8-20 HP Suzuki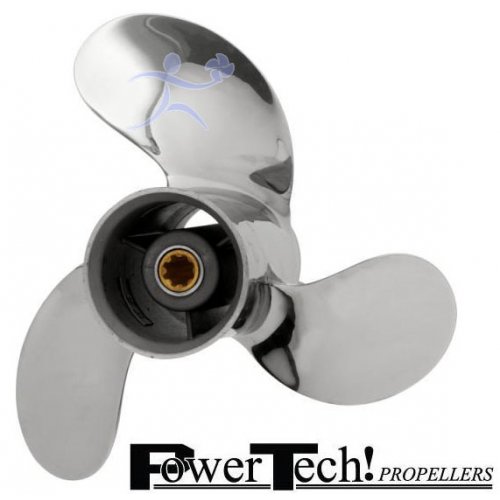 PowerTech SWA3 Semi Weedless Stainless Steel Propellers for 8-20 HP Suzuki Outboards.
The Powertech SWA3 series propeller is an all-purpose prop for smaller motors that feature a semi-weedless design to help prevent weed entanglement in the prop. This 9.25 inch diameter SWA is available in 3 or 4 blades, and 9, 10 and 11 pitches. The SWA comes highly polished with a factory pressed in SZ15 (10-Spline) rubber hub bushing for mounting using your original Suzuki Propeller hardware.
SZ15 Rubber Hub Bushing
10 Tooth Spline
Thru Hub Exhaust
2 1/2" Gearcase

DF 8A 4-Stroke 2011 & Newer
DF 9.9A / 9.9B 4-Stroke 2010 & Newer
DF 15 4-Stroke 1996 & Newer
DT 9.9 1983-1987
DT 15 1983-1988
DF 15A 4-Stroke 2013 & Newer
DF 9.9 4-Stroke 1996 & Newer
DT 15C 1989-1997
DF 20A 4-Stroke 2013 & Newer
NOTE: If you are not satisfied with your purchase within the first 30 days, we will exchange your propeller for a different pitch for a nominal fee.