PowerTech SCD3 Propeller 60-130 HP Honda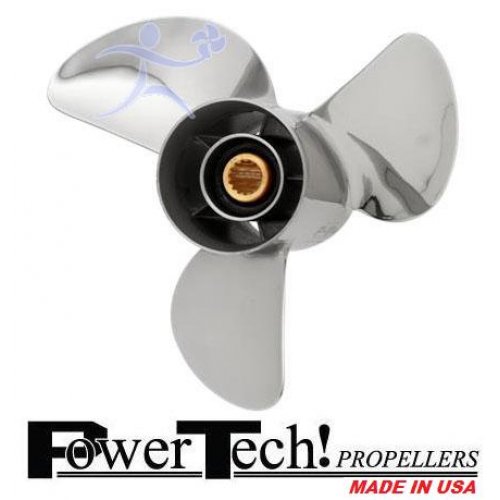 PowerTech Propellers SCD3 Semi-Cleaver Stainless Steel Props for 60-130 HP Honda Outboard motors.
The Powertech SCD3 is a Semi Cleaver prop that provides great porpoise control with excellent stern-lift and grip for use on transom-mounted bottoms or shallow V's. The SCD 13" diameter propeller is available in right or left-hand rotation, with 1" pitch increments from 13" to 21". The SCD is available in 3 or 4 blades and comes with a factory pressed in H115 rubber hub bushing, for mounting using your original Honda Propeller hardware.
SCD3 Propellers Feature:
Pitch range 13 thru 21
13" Diameter
Available in 3 or 4 Blades
Outboard powered Bass, Flats, Bay, Sport, Jon, & Ski Boats
Right and Left-hand rotation
Provides porpoise control

OEM Equivalent Semi-Cleaver design

Excellent Stern-lift

Polished Stainless Steel
4.25" Gearcase
Thru Hub Exhaust
15 Tooth Spline
H115 Rubber Hub Bushing
SCD3 Propellers for the following Honda Outboard motors:
BFP 60 HP 2010 & Newer
BF 75/90 HP 1995 & Newer
BF 100 HP 2016 & Newer
BF 115 HP 1998 thru 2010
BF 130 HP 1998 thru 2004
NOTE: If you are not satisfied with your purchase within the first 30 days, we will exchange your propeller for a different pitch for a nominal fee.