PowerTech RXB4 Propeller 40-140 HP Mercury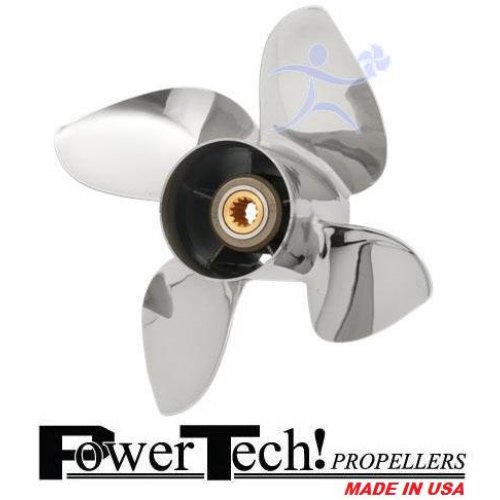 PowerTech Propellers RXB4 High Performance Stainless Steel Props for 40-140 HP Mercury-Mariner Outboard motors.
The Powertech RXB4 propeller is an excellent multi-purpose performance boat prop for D Class, 40-140HP Mercury-Mariner Outboards and has a constant 13.25-inch diameter regardless of pitch in 12 thru 21 inches of pitch. The RXB has a high performance blade geometry, cupping, high rake and tapered leading edges to minimize drag while providing great bow lift for excellent hole shot and acceleration. The RXB is available in 4 blades and comes with a factory pressed in M135 rubber hub bushing for mounting using your original OEM Mercury Propeller hardware.

RXB4 Propellers Feature:
Pitch range 12 thru 21
13.25" Diameter
Available in 4 Blades
Outboard powered Bass, Flats, Bay, Sport, Jon, Ski, Sport & Deck Boats
Right and Left-hand rotation
Excellent hole shot, handling, and grip

Polished Stainless Steel
4.25" Gearcase
Thru Hub Exhaust
15 Tooth Spline
M135 Rubber Hub Bushing
RXB4 Propellers for the following Mercury Outboard motors:
40,50,60 HP Command Thrust All Years
40,50,60 HP Big Foot All Years
60 HP Sea Pro 4-Stroke 2016 & Newer
70 HP '87-'89
75 HP(2&4-stroke) '84 & Newer
80 HP '78-'89
90 HP (2&4-stroke '78 & Newer
100 HP '88 & Newer
115 HP '78 & Newer
115 HP 4-stroke '01 & Newer
125 HP '94 & Newer
140 HP (Includes Sea Pro & Offshore) '78-'81
650 2 Cyl thru '71
800-850 6 cyl thru '72
800-850 4 cyl '72-'77
900-1500 Models thru '77
80 HP Mariner '78-'83
NOTE: If you are not satisfied with your purchase within the first 30 days, we will exchange your propeller for a different pitch for a nominal fee.