PowerTech PFS4 Propeller Yamaha 50-130 HP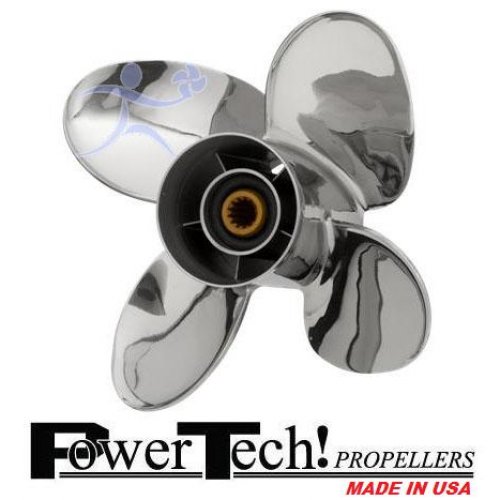 PowerTech Propellers PFS 4 Blade Flats Super Cup Stainless Steel Props for 50-130 HP Yamaha Outboard motors.
The Powertech PFS4 is a 13" diameter version of the PFO series propellers. The PFS has heavy cupping to give excellent bite and grip while minimizing cavitation under heavy loads. This propeller will perform well in extreme motor elevations, as well as on flats boats and tunnel-hull applications. The extra-thick blade sections will add durability and protect against scratches and dings. The PFS4 comes with a factory pressed in YM90 rubber hub bushing, for mounting using your original OEM Yamaha Propeller hardware.
PFS4 Propellers Feature:
Pitch range 15 thru 21
Available in 3 and 4 blades
Outboard powered Bass, Lake and Bay Boats
Right hand rotation
Excellent hole shot, handling, and grip

Polished Stainless Steel
4.25" Gearcase
Thru Hub Exhaust
15 Tooth Spline
YM90 Rubber Hub Bushing
PFS4 Propellers for the following Yamaha Outboard motors:
T50 HP 1996 and Newer
60 HP 1992 and Newer
70 HP 1984 and Newer
75 HP 1994 and Newer
80 HP 1997
85 HP 1991-97
90 HP 1984 and Newer
115 HP 1984 and Newer
130 HP 1984 and Newer
F70 (Four Stroke) 2010 and Newer
F80 (Four Stroke) 1999-2002
F90 (Four Stroke) 1999 and Newer
F100 (Four Stroke) 1999 and Newer
F115 (Four Stroke) 1999 and Newer
NOTE: If you are not satisfied with your purchase within the first 30 days, we will exchange your propeller for a different pitch for a nominal fee.