PowerTech NRS4 Propeller 60-140 HP Tohatsu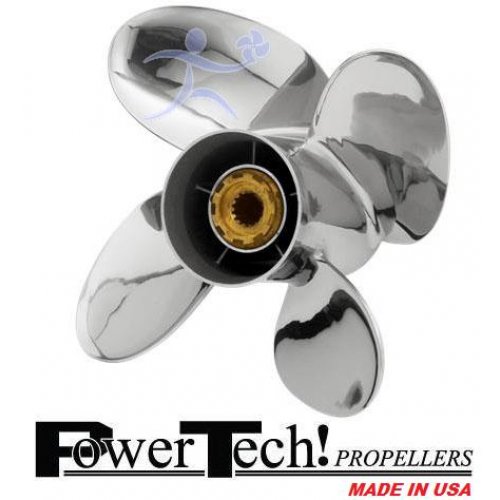 PowerTech NRS4 Turbo Series Stainless Steel Propellers for 60-140 HP Tohatsu Outboard motors.
PowerTech Propellers NRS 4 blade Tohatsu Outboard Turbo series propellers are 13.25" diameter available in 1" pitch increments from 14" to 21". Available in right- or left-hand rotation, moderate rake with good lift and extensive cup. These PowerTech Propellers are more aggressive than the PowerTech RED styles, and less aggressive than the PTR style. Similar to Turbo & Mercury Laser II Propeller family's. The Powertech NRS4 comes with a factory pressed in TN90 (Tohatsu) or M135 (Mercury) rubber hub bushing, for mounting using your original OEM Tohatsu Propeller hardware.
NRS4 Propellers Feature:
Pitch range 14 thru 21
Available in 3 and 4 blades
Outboard powered Bass Boats
Right and Left hand rotation
Stern Lifting Propeller applications
Polished Stainless Steel
4.25" Gearcase
Thru Hub Exhaust
15 Tooth Spline

TN90 Rubber Hub Bushing (Tohatsu)

M135 Rubber Hub Bushing (Mercury)
NRS4 Propellers for the following Tohatsu Outboard motors:
TN90 HUB TOHATSU
60C (Large Gearcase) thru 1999
70C (Large Gearcase) thru 2002
70 HP TLDI 2002-2009
75 HP TLDI 2010 & Newer
90 HP 1987-2001
90 HP TLDI 2001 & Newer
115 HP TLDI 2004 & Newer
115 HP 1992-2001
120 HP 1988-2003
140 HP 1988-2003
140 HP 1988-2003

M135 HUB MERCURY/TOHATSU
BFT60/BFW60 2014 & Newer
BFT75 2014 & Newer
BFT90 2014 & Newer
NOTE: If you are not satisfied with your purchase within the first 30 days, we will exchange your propeller for a different pitch for a nominal fee.