Michigan Vortex 4 Propeller 115-250 HP Tohatsu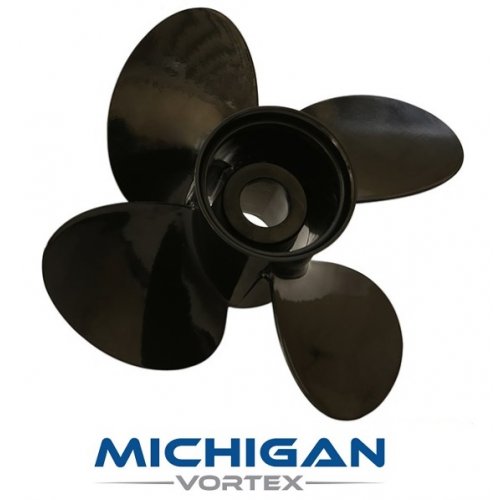 Michigan Wheel Vortex 4 Blade Aluminum Boat Propellers for 115-250 HP Tohatsu Outboards.
Thru-Hub Exhaust
15 Tooth Spline
4.75" Gearcase
Requires XHS207 Hub Kit (Not Included)
BFT115 HP 2014 and Newer
BFT150 HP 2014 and Newer
BFT200 HP 2014 and Newer
BFT225 HP 2014 and Newer
BFT250 HP 2014 and Newer

• High performance aluminum propellers utilizing XHS Hub System.
• Available as 3 or 4 blade boat propeller.
• Performance blade geometry, precision balanced blades.
• High gloss powder coat finish.
• 4 blade propellers are ideal for towing skiers, tubers, and wake boarders.
• Great choice for replacement or spare propeller.
Michigan Wheel's high performance Aluminum Propellers utilizing the XHS Xchangeable hub system, Vortex Propellers features high performance blade geometry, precision balanced blades and high gloss powder coat. Michigan Vortex Propellers utilize the XHS Xchangeable hub system, making them interchangeable with the Mercury Flo- Torq II™ system. Available for a full range of applications (20-70 HP to V6/V8; 3-Blade and 4- Blade), the Vortex Propeller is a great choice for a replacement or spare propeller for boaters.