Michigan Ballistic XL Propeller EJ 40-140 HP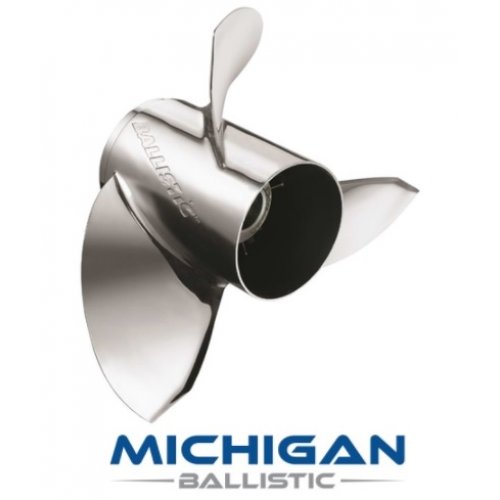 Michigan Ballistic-3 XL Stainless Propeller fits 40-140 HP Evinrude Johnson Outboards.
Michigan Wheel's Ballistic Propellers are constructed from 15-5ph stainless steel, and features the proven Power Tip for peak efficiency. Blade tip and cup combine to improve bite and reduce power losses caused by cavitation, while highly cambered blade sections provide for higher speed and better bow lift.
Typical Ballistic applications include – Bass, Bay & Flats Boats also Ski and Sport boats.
High Performance Design
Tapered Leading edges minimize drag
High Cambered blade sections
Maximum efficiency
V4 Gearcase, 13 Tooth Spline
Thru Hub Exhaust
Rubber Hub Bushing
High Polish Finish
XHS206 Hub Kit 13 Spline 2-Stroke
40,50,55,60,75 HP (E-TEC) 2004 and Newer
45-65 HP Commercial 1980 and Newer
50-75 HP Pleasure 2&3 Cyl. 1968 and Newer
60 HP (4 Stroke) 1998 and Newer
70 HP (4 Stroke) 1998 and Newer
90,115,130 HP (E-TEC) 2004 and Newer
85 HP 1969-80 & 1991-95
88 HP 1981-96
90 HP 1981 & Newer
100 HP 1979-80 & 1988-93
110 HP 1986-89
112 HP 1994-96
115 HP 1973 & Newer
120 HP 1986-94
125 HP 1971-72
135 HP 1973-76
140 HP 1977-94
XHS210 Hub Kit 13 Spline 60 & 70hp 4-Stroke 1998 and Newer
XHS225 Hub Kit 15 Spline 4-Stroke DF90 & DF115 2001 & Newer
XHS226 Hub Kit 15 Spline 4-Stroke DF140 HP 2002 and Newer