Michigan Apollo 3 Propeller 50-140 HP Suzuki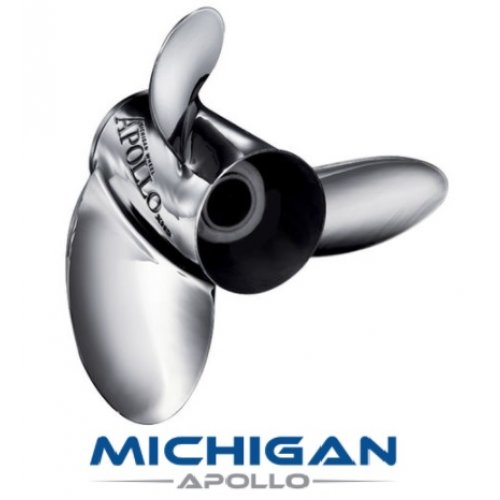 Michigan Apollo XHS Stainless Propellers for 50-140 HP Suzuki Outboards.
Michigan Wheel Apollo Stainless Propellers offer sizes available for 30-70hp to V6/V8. Apollo Propellers can be utilized on typical outboard and stern drive applications. Apollo Large Diameter Outboard Propellers are great for heavier loads that require increased blade area (V6/V8) applications. Michigan Apollo propellers are also available in 4-blade for improved hole shot on heavier loads, and are great for pulling/towing in water sports. With high performance CAD designed blade geometry, Apollo Stainless Steel boat propellers are a great choice for a replacement or spare propeller.

Michigan Wheel's Xchangeable Hub System absorbs impact and stress caused by shifting gears and is designed to spin under significant impact to protect your lower end unit. XHS is also designed to be interchangeable with Mercury's Flo-Torq™ II hub system, potentially saving you money when replacing or upgrading your propeller.
High-Performance - CAD designed Blade Geometry.
Highly Polished - High Strength Stainless Steel Alloy
Limited Lifetime Warranty
XHS® and Flo-Torq II™ Hub System Compatible
Universal Fit Propeller
4.25" Gearcase
Thru Hub Exhaust
13 and 15 Tooth Spline

XHS210 Hub Kit (13-Spline)
DF-60 1998 and Newer
DF-70 1998 and Newer
DT-75 1983-97
DT-85 1979 and Newer
DT-90 1989-97
DT-100 1989 and Newer
DT-115,140 1981 and Newer
XHS225 Hub Kit (15-Spline)
DF-50AV & DF-60AV 2015 & Newer
DF-90, 100 & 115 2001 and Newer
XHS226 Hub Kit (15-Spline)
DF-140 2002 and Newer
DF-115A 2002 & Newer
XHS227 Hub Kit (15-Spline)
DF-70A,80A,90A 2009 & Newer