Limited Clearance Collar (Line Cutter) 0.875"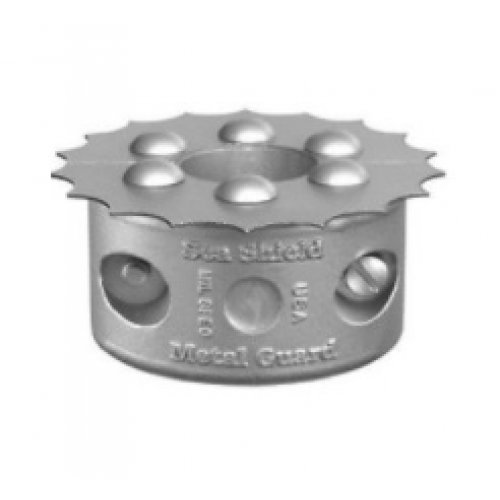 Seashield Marine Sacrificial Anode Line Cutter Assembly.
Shaft Diameter: 7/8"
Zinc OD: 2"
Blade OD: 2.5"
Thickness: 1.25"
Weight: 0.7 lbs.
High quality Mil Spec anode for a tight fit to your mounting surface.

SALCA - Experience the Dual Advantages of a Sacrificial Anode and Underwater Line Cutter
Like most mariners, you likely have been making separate investments in sacrificial anodes for corrosion protection and a line cutter protection against propeller entanglement. At Sea Shield Marine Products, Inc., we believe that you don't have to spend twice the amount of money and time on these two tasks.
We've introduced a novel, patent-pending product called the Sacrificial Anode Line Cutter Assembly (SALCA) that amalgamates the benefits of a sacrificial anode and a disc line cutter into a single, easy-to-use product. So now, you don't have to worry about spending time, money, and energy on sacrificial anodes and disc line cutters when you get the same benefits from a single SALCA unit.
What's unique about SALCA?
Everything. For one, it is a brand new, patent-pending concept that protects your propeller from entanglement even as it offers corrosion protection to your marine vessel. It has been scientifically designed and engineered, and has been manufactured according to the highest industry specifications. It brings you all the benefits associated with a zinc anode.
Why should you replace your existing disc line cutter with SALCA?
Your regular disc line cutter performs just one task. On the other hand, the SALCA multitasks to give you significantly more value for your money.
It cuts through weed, fouling, stray fishing nets, or ropes. In addition to this, the sacrificial anodes work round-the-clock to provide cathodic corrosion protection to your expensive underwater metals. This brings your prop-shaft driven marine vessel dual benefits with a single product.
How does SALCA work?
SALCA is comprised of a sacrificial zinc anode body assembly that is fitted with high-performance, durable stainless steel cutting blades. These blades have been tested on virtually every entanglement that threatens your marine vessel.
Once installed, the zinc anodes on SALCA begin to demonstrate their corrosion protection qualities immediately. The sacrificial anode will also gradually reduce in size over the next few weeks. When the sacrificial anodes reach a particular percentage of their original size, you simply need to extract the entire assembly and replace it with a new one.
Installing SALCA is quick and easy
You don't have to be a professional installation expert to mount the SALCA assembly to your vessel. This unit comprises two halves that fasten around the shaft. These halves can be tightly secured with a simple flat head or Allen key head retaining screws. The inner radius is so designed that it enables the sacrificial anode to secure firmly to the shaft and eliminate the risk of spinning under pressure.
SALCA can be installed at the aft of the boat's strut between the prop and strut or cutlass bearing. Alternatively, it can be installed on either side of the strut for enhanced protection.
SALCA installation at a glance
•Easy size verification inside and outside
•Easy installation-deep slotted stainless steel machine screws for maximum torque
•Stainless steel Allen cap screws available upon request
•Innovative O-rings keep screws from falling out
•Individually boxed with foam insert for safety
•Tested under harsh conditions; won't spin even under several tons of pressure