Beneteau 25mm Line Cutter Anode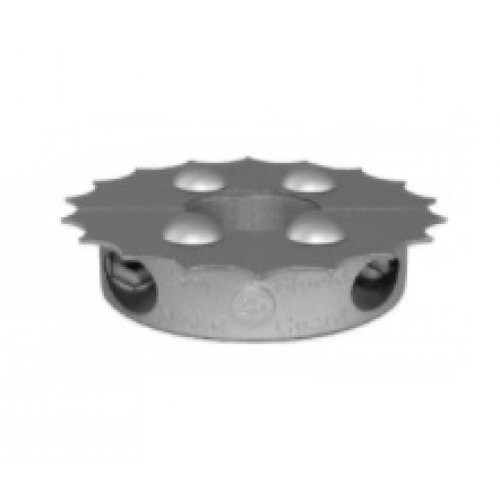 Beneteau Line Cutter Anode for use with 25mm Shafts.
Our anodes are manufactured using only the latest US-MIL-SPEC alloys.
Shaft Size: 25mm
Outside Diameter: 2.625"
Thickness: 5/8"
Weight: 0.77 lbs.
Allen: 3/16
The Beneteau Limited Clearance Collars can provide maximum protection against corrosion from sea water. Marine vessels face a huge problem of corrosion, so installing a cost efficient device like Beneteau Limited Clearance Collars can save thousands of dollars. We at Sea Shield Marine manufacture high-quality clearance collars. These zinc anodes can be directly installed on the shafts of metric diameters based layout, the conventional inboard boat will carry such mechanism.
Stainless steel nuts and bolts are used to secure the device from the rotation of the shaft. The clamp is tightened with the use of right torque. Expect a consistent level of catholic protection once you have installed these anodes.
SALCA from Sea Shield Marine
A SALCA (Sacrificial Anode Line Cutter Assembly) is cost effective and maintenance free tool to use; it is a direct replacement for line cutters which are costly. Our state-of-the-art manufacturing facility promises to deliver exceptional Beneteau Collars for marine vessels, we have stringent quality policies for all our products.
Line cutters can corrode if they are not maintained in proper condition, SALCA does not face such problems. Its installation is also easy, deep slotted stainless steel machine screws are used for delivering maximum torque. Verification of the Line Cutter Assembly is also easy since data is printed on the inside and outside of the unit.
Sea Shield Marine also caters to custom orders for special marine vessels. Stainless steel Allen cap screws can be purchased separately for maximum protection. Use of modern technology is done to keep Beneteau collars working round the clock, O-Ring type screws are installed to prevent the main assembly unit from falling off in sea water.