Volvo Penta Duoprop DPH Type G9 Set 22898649
Volvo Penta Duoprop Type G9 Nibral Propeller Set for DPH Outdrives.
Genuine OEM 22898649 Volvo Penta DPH G9 NiBral Duoprop kit includes one 3 blade front and one 4 blade rear propeller.
The new generation Volvo Duo Prop propellers has been specially developed to handle the tremendous torque and power from the D4 and D6 engines. The combination of a 3-blade front and a 4-blade rear propeller, is the key to the tremendous grip in the water. Performance is outstanding and the special nickel-bronze-bronze (Nibral) alloy complete with full electric isolation ensures no growth and excellent corrosion resistance.
VOLVO PENTA DUOPROP DPH TYPE-G9 SET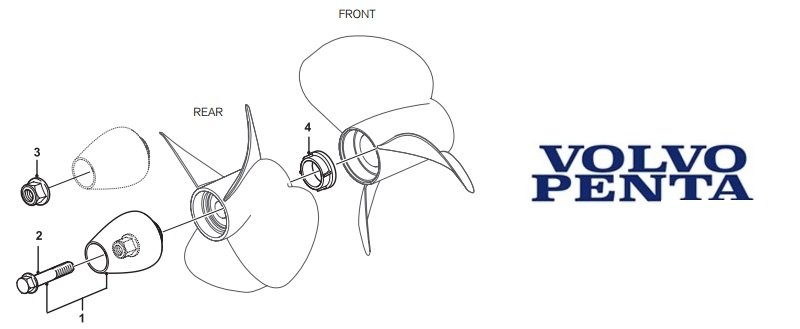 Installation hardware, DPH Type G
21829326 aka 3807136 Volvo Penta DPH Cone Kit
991609 Volvo Penta DPH Rear Propeller Lock Bolt
3863213 Volvo Penta DPH Rear Propeller Nut
3863211 Volvo Penta DPH Front Propeller Nut
23161623 Volvo Penta Duo-Prop DPH & DPR Tool
G2 Set #3587375 - Superseded to 22898642

G3 Set #3587378 - Superseded to 22898643
G4 Set #3587379 - Superseded to 22898644
G5 Set #3587380 - Superseded to 22898645
G6 Set #3587381 - Superseded to 22898646
G7 Set #3587382 - Superseded to 22898647
G8 Set #3587383 - Superseded to 22898648
G9 Set #3587384 - Superseded to 22898649
G10 Set #3587385 - Superseded to 22898650