Volvo Penta Duoprop IPS15 Type-N Set
Volvo Penta Type N & NS Duoprop Nibral Propeller Set for Volvo Penta IPS-15 Drives.
Genuine OEM Volvo Penta Type N/NS – NiBral propellers
Specifically developed for IPS with D8 engine to give outstanding efficiency, onboard comfort and maneuverability.
NS series are designed for semi-planing hulls with moderate top speeds. N Series designed for full-planing higher speed hulls.
• Extremely strong and specially developed NiBral (nickel-bronze-aluminum) alloy.
• Minimum growth, excellent durability and corrosion resistance.
• Patented flow deflector minimizes pressure and wear on propeller shaft seals.
• Three-blade front propeller and four-blade rear propeller.
Volvo Penta IPS Twin Counter-Rotating Propellers face forward.
3-Blade Front Propeller
4-Blade Rear Propeller
The Nibral (nickel-aluminum-bronze) propeller alloy is developed to add to the revolutionary Volvo IPS propulsion system's outstanding performance. The design combined with a material that withstands stress & corrosion, as well as minimizing growth, ensure optimum performance and outstanding maneuverability.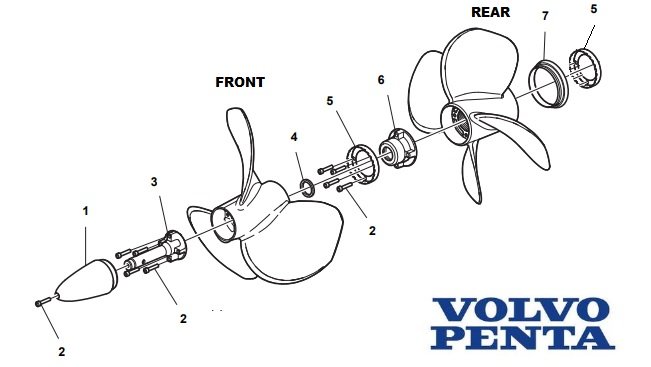 3 - 21815875 Propeller nut, front
6 - 21815872 Propeller nut, rear