Michigan Ballistic Propeller 25-30 HP Tohatsu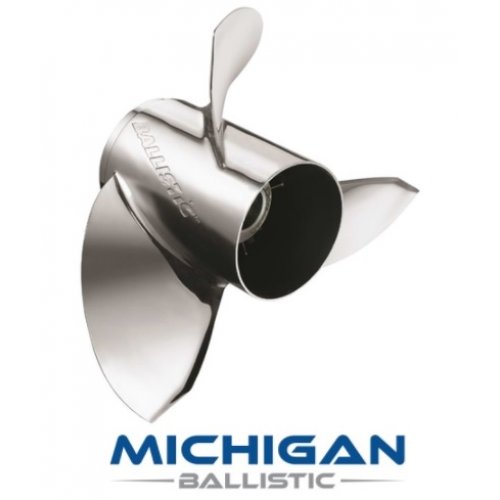 Michigan Wheel Ballistic XHS 3 blade Stainless Steel Propellers for 25-30 HP Tohatsu Outboards.
Michigan Wheel's Ballistic Propellers are constructed from 15-5ph stainless steel, and features the proven Power Tip for peak efficiency. Blade tip and cup combine to improve bite and reduce power losses caused by cavitation, while highly cambered blade sections provide for higher speed and better bow lift.
Ballistic Props have tapered leading edges to minimize drag, and maintain optimum blade strength and thickness. With a high luster mirror finish to add appeal and enhance corrosion resistance, Ballistic makes the perfect Outboard Propellers; whether it's used on a bass boat, ski boat, or sport boat, available in 3-blade and 4-blade, with pitches ranging from 13" to 27".
Thru Hub Exhaust
10 Tooth Spline
3.00" Gearcase
Universal Hub Propeller
XHS122 10-Spline Tohastu
25 HP 1986-2001
25 HP 4-Stroke 2002 & Newer
30 HP 1985-2001
30 HP TLDI 2016 & Newer
30 HP 4-Stroke 2002 & Newer