Prop Guard 14" Red 70hp to 140hp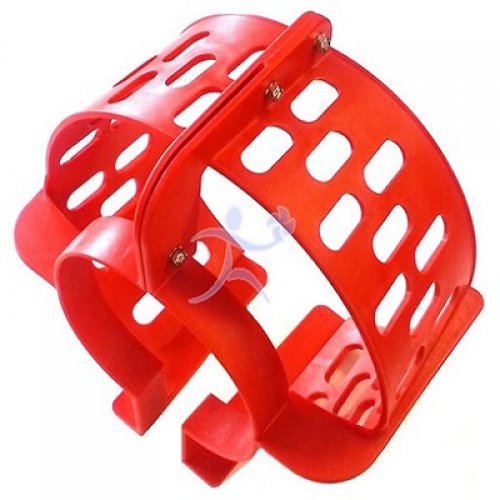 14" High Strength Composite (Not Plastic) Prop Safe Guard Fits 70hp to 140hp - Class D Gear case/Motors.
For Bigfoot, High Thrust or E-Tec use 16" Prop Guard.
Note - Boat Propeller Guard not recommended for speeds over 30mph.
Test data indicates outstanding gain in overall Boat Performance,with the Propeller Guard installed...
1) Greater thrust
2) Higher cruising at minimum motor RPM RESULTING IN FUEL SAVINGS.
3) Significant directional steering control.
4) Outstanding boat leveling trim control.
5) Complete Propeller protection. (Water Skier safety)
6) Significant reduction of Propeller wake (Preventing wake nuisance for boats nearby and preventing wake damage to river and channel banks)
7) The vortex vanes between the outer and inner guard nozzle create a similar effect as counter rotating propeller arrangements, canceling the torque reaction, and the Propeller vortex of a single Propeller installation (Simple application for submarines and torpedos)
NOTE: BOAT PROPELLER GUARD DOES NOT WARRANT THE INCREASE OR DECREASE IN SPEEDS AS HULL AND ENGINE CONFIGURATIONS VARY BETWEEN BOAT MANUFACTURES.