Garelick 4-Stroke Outboard Bracket 25hp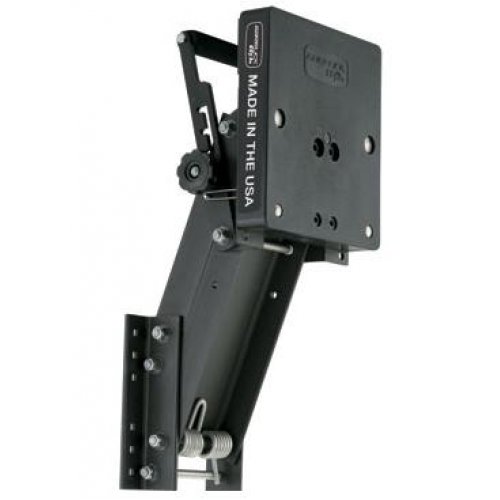 Garelick 71091 Aluminum 4-Stroke Auxiliary Outboard Motor Bracket.

H.P. Rating: 7 ½ to 25hp
Motor Weight: 175 lbs. Maximum
Vertical Travel: 15 1/2"
Poly Mounting Board Dimensions: 11 1/2"W x 12"H x 2"T

Raise and lower trolling and auxiliary motors on power and sailboats with ease
Built especially for new 4 Stroke, heavier, high torque motors
Extra Wide 11 1/2" (29cm) Black Poly Mounting Board for new, wider style motor locking clamps used on late model outboard motors
Accommodates long or short shaft motors
Motor Safety Cable included for added protection
With 5 vertical running position lock bar to compensate for water surface and boat load conditions – Hard coated for added resistance to wear
New, ergonomically designed twist lock safety knobs secure bracket in place
Heavy-duty stainless steel torsion springs help counterbalance motor's weight
Easier to hold with comfortable, soft Hyperion grip handle designed to accept most style outboard motor locks
Black satin Anodized aluminum body resists corrosion – Dubbed the "Black Beauty" Outboard Motor Bracket
2" Thick, Extra Wide Black Poly Mounting Board – Weather able and maintenance free
Aircraft Type Stainless Steel Hardware – For increased durability with nylon friction resistant washers
MADE IN THE U.S.A.!